Breakwater Company
My shop began when I fixed up my grandmothers 1941 Singer featherweight. My mom learned to sew on this sweetheart of a machine and then, as a young mother, I sat before it in my few quiet hours and felt the artisan gene revive. I grew up in an artisan family, we made hand dyed and hand woven rugs together. I have woven, sewn, painted watercolors and thrown pottery since I was a young girl. It was not until I took apart and rebuilt my grandma's Singer that the inspiration for my shop Breakwater Company dawned upon me. I love fixing things, designing, finding ways to make one thing from another. Around this same time, my dear brother was spending time as a captain, chartering his sailboat on the Great Lakes out of Chicago. The sails, hardware, and marine canvas seemed perfect materials to play with. My daily inspiration comes from my home in Leelanau County, Michigan were the forested hills, rolling farmland, clean lakes and my heritage blend into a good life. Each time I make something, I aim to share these cherished treasures.
These days I sew on a sturdy industrial walking foot sewing machine that once made boat covers for boats manufactured here in MI. When the plant closed down, so did the canvas shop. A neighbor to the canvas shop kept my machine in good working order, though barely used for about two decades until I came upon a need for it. Things just work out some times. These machines were built to last and they have. I love working on it, fixing it, tuning and oiling it. I love to make things but I also love to run my sturdy machine. I hope for a lifetime as a maker. My boys clip the strings and soon they will be setting snaps and grommets for Breakwater Company.
Powered by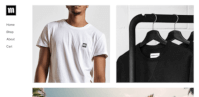 Create your own unique website with customizable templates.