L
eelanau
Artisan
& Crow Hill Croft pottery
Sarah Jane Johnson & Bob Babich
Our work is crafted on our off the grid cottage croft on the stunning Leelanau Peninsula (the little finger on the mitten of Michigan). Our pottery and lampwork beads, jewelry and other craft reflect this place we love.
Leelanau, the "land of delight" so dubbed by the local Ottawa tribe, is one of the prettiest places on the planet. the "little finger" tickles Lake Michigan with wind swept beaches, while the interior is a pastoral of cherry and apple orchard dotted hills, cut by deeply wooded ridges and ravines. As a native of the region I'd love to share our totems of place. Leelanau, or simply "the county" is an amazing place to call home or visit.
Powered by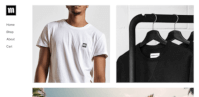 Create your own unique website with customizable templates.