One Without Limits
OWL is a small family owned company based in Leelanau County, Michigan. We are rooted in the belief that reestablishing a connection with the people and the process of how products are made creates a stronger community. Our basic needs can be met locally. By choosing to slow down we are able to hand select our materials and know how and where they are being produced. As a result we are able to create a company that makes superior products with a sustainable foundation.
Our hope is that the transparency of our process presents our customers with the opportunity to know their clothing from every angle. From where the plants were farmed and milled into fibers to how and where the fabric is dyed and constructed into the final product. The story of one piece of clothing is vast and rarely given true consideration. Our mission is to change that.
​
OWL
info@onewithoutlimits.com
231-357-4045

Powered by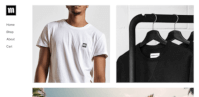 Create your own unique website with customizable templates.